What is Customer Experience (CX), and why is it important?
Gartner defines Customer Experience (CX) as "the customer's perceptions and related feelings caused by the one-off and cumulative effect of interactions with a supplier's employees, systems, channels or products."
Acquiring new customers is essential, but at the same time, organizations should prioritize improving their existing customer base by providing them with excellent customer experiences, leading to higher revenue and profitability.
Need for Comprehensive Customer Experience Assurance Platform
Customer Experience Assurance is a platform to provide correct feedback to the stakeholders on customer experience (CX) areas at various product lifecycle stages, enabling teams to make informed decisions on CX and continuously improve it.
Several organizations already have done or are in the process of creating a Customer Experience Assurance service as a standalone unit or as part of their customer experience team. This is helping them enable end-to-end automated customer experience monitoring and assurance for various processes.
CX assurance platform is a catalyst to provide deep insights into the customer experience with the help of quantitative and qualitative analysis based upon real-time data on customer behaviour. A typical CX assurance platform will consist of an ecosystem of assurance on areas such as usability, accessibility, availability, performance, compatibility, and service assurance.
Challenges in measuring Customer Experience
Many organizations have their own CX measurement, and improvement initiatives are being implemented in siloes without interfacing with different departments or validating back with their end customers, causing low ROI on CX efforts. There is also an empathy vacuum for customers, leading to higher customer churn.
Solution approach for Digital CX Assurance Challenges:
Understanding Your Customers: It is important to understand your customer to fine-tune your customer experience strategy.
Gartner provides the below framework to Understand Your Customers Better.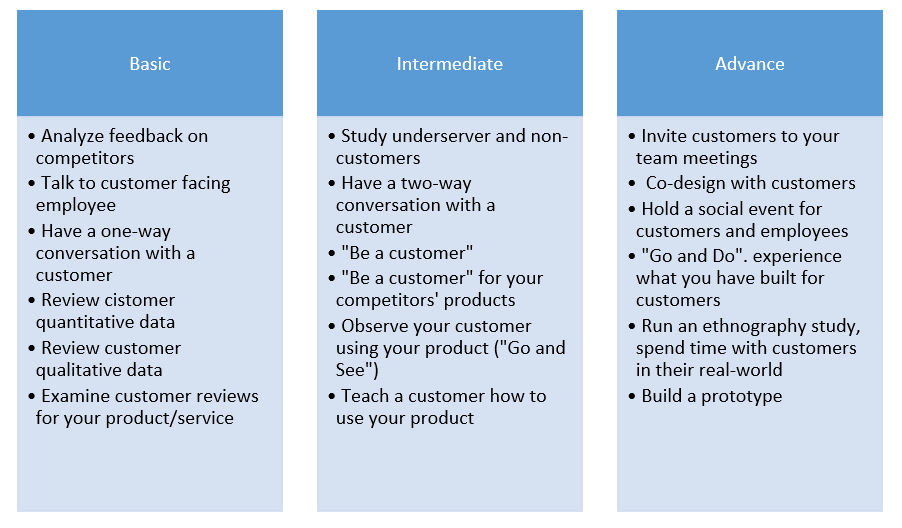 Identify Digital Customer Experience KPIs: To enhance customer experience specific to the company's product, we have to first identify and measure KPIs and then work to improve CX.
In one of the surveys, the top KPIs being tracked for measuring customer experience are depicted below:
Customer satisfaction score
Product or service quality metrics
Employee engagement
On-time delivery
Repeat order
Returns rates
Customer efforts score
First call resolution rate
Willing to be a reference customer
Churn rates
Each organization can have customizations as per its maturity, resources and long-term business goals.
Digital CX Dashboard: Gartner recommends the below framework for the CX metrics dashboard.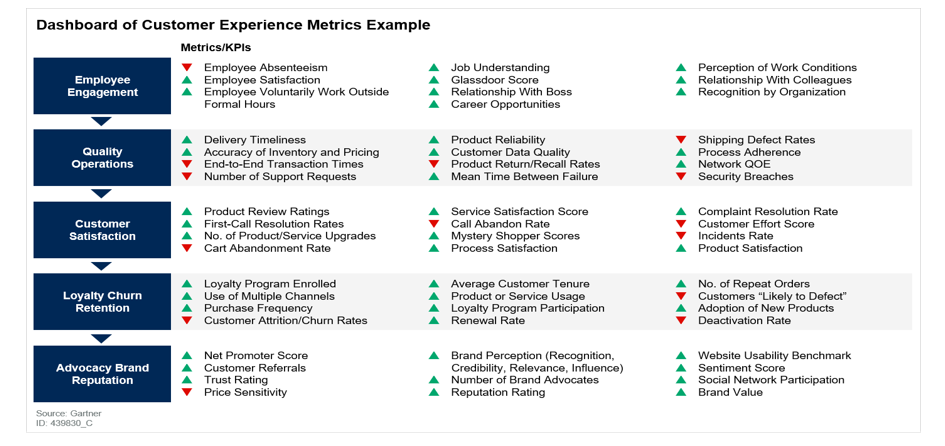 Enhancing Customer Experience for Higher Revenue and Profitability: There are four primary categories of customers' salient experiences, namely:
Interaction Experience –These are the evaluations customer makes based on their interaction with an organization.
Product Experience – Customer Experiences post product/services usage.
Brand Perception – Customer's perception towards a brand and how the brand is delivering value to them.
Price – Customer's view on the value received in the price paid to the product
Though all these four areas are important to provide a great customer experience, Continued improvements in the product experience are rewarded with greater loyalty.
Every organization must continuously work to improve customer experience on all the factors described above to retain the existing customer, increase customer loyalty and stay ahead of the competition.
Benefits of Customer Experience Assurance solution
The CX assurance platform has helped organizations keep a tab on CX metrics and fine-tune their strategies to improve customer experience. The following areas have been found to improve with meticulously designed customer experience assurance solutions:
Real-time insights on CX metrics
Improvement in customer lifetime value
Journey mapping and orchestration
Higher customer loyalty
Greater operational efficiencies and higher profitability
Conclusion
IGT Solutions is well placed to deliver a customer experience assurance platform to enable organizations on providing hyper-personalization, sentiment analysis, and trends in CX changes coupled with real-time intelligent data analytics.
Author:
Yatender has 20+ y
ears of experience in software test engineering. As the head of Testing Practice at IGT Solutions, Yatender is actively involved in innovations related to test engineering covering new tools, technologies, and solutions, and enabling IGT's clients to achieve faster time to market quality improvement, and optimization of developer efforts in overall SDLC. A result-oriented leader, proficient in delivering high customer value and achieving excellence in service delivery management with proven skills in consulting and managing large and complex test programs. When away from work, he enjoys reading on a variety of topics and spending time with kids.