In the travel and transportation industry, the customer demand is very dynamic and pushes for a faster & sometimes on-the-fly application development process. Low-code and No-code are platforms that are becoming popular by the day and looking promising in terms of achieving business goals. In the current market where innovative services need to be launched faster, that too without compromising safety, security, quality, and timelines, and still manage reusability of components; low-code and no-code platforms are ideal solutions.
What are No-Code and Low-Code platforms?
These are the development environments that are used to rapidly develop and deploy custom applications by minimizing coding and using drag & drop for pre-build libraries and components for creating user interfaces, business logic, and data services.
 Main challenges in the traditional approach of application development:
Key technology skills are in shortage: There is a shortage of skills in key technologies these days, making it difficult to deliver the application development project on time, with the agreed quality and scope.
Time to market is the key: In today's hyper-demanding market, the expected delivery time is in days and weeks and not in These kinds of timelines are not feasible in the legacy ways of working.
Technological complexity: The technology is changing very rapidly and staying on top of all related areas of GUI, interfaces, security, scalability is an ardent task and quite time-consuming.
Business innovations: By the time the technical team develops and is ready with an application, there is already a demand for new changes.
These challenges of traditional approach on software development are the key enablers of no-code- and low-code platforms as these very challenges are resolved with a new approach.
How to finalize low-code and no-code platforms for your development team?
Usually we need to perform comparative assessments of available platforms with respect to the organization's budget, business needs and team composition. Gartner's magic quadrants are a good starting point. We can  get information on vendors from other industry forums and publications as well.
Gartner's Magic Quadrant for Enterprise Low-Code Application platforms: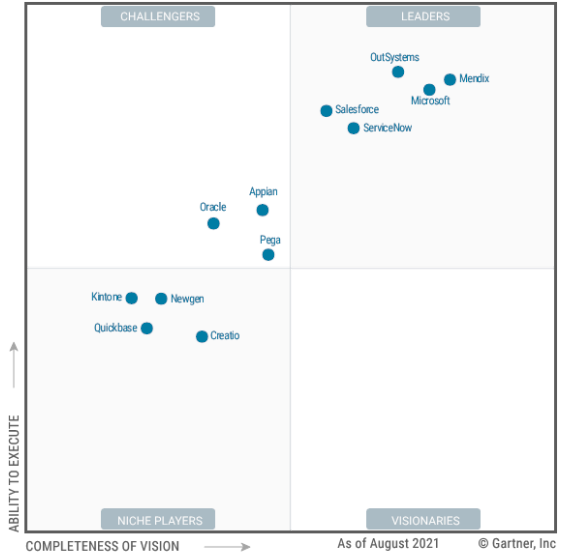 As per Gartner, the low-code development technologies space is expected to reach $29 billion in revenue by 2025 (with a compound annual growth rate of more than 20%).
Key reasons for the rapid growth of low code platforms are:
Business users get the opportunity to develop their use cases and features and dependence on core techies is reduced
Automation and hyper-automation initiatives are very well supported by low-code applications, as pre-built components are available to integrate with other 3rd party APIs and systems
It provides greater composability of application services, functionality and capabilities, which enable teams to implement applications across different technologies
Key features of low-code applications:
A low-code platform can be used to create applications with the below features:
| | | | | |
| --- | --- | --- | --- | --- |
| High Performance | High Availability And Scalability | Scalability | Disaster Recovery | Enterprise Security |
| API Access to 3rd Party Apps | Application Usage Monitoring | Slas | Technical Support And Training | Complex Business Process Automation |
| Event-Driven Architecture | Ai-Augmented Development | Application Composition | | |
Low-code and no-code development in the Travel and Transportation industry:
Travel and transportation organizations can develop user–facing and self-services applications for customer registration, flight booking, baggage claim, cargo management, payment and loyalty programs using low-code and no-code platforms.
The Travel and Transportation applications have longer development cycles and have various interfaces with payment gateways, loyalty management systems, booking engines, reservation systems, and industry bodies such as IATA, HFTP, HTNG, GSTC and local Government authorities. The use of low-code and no-code platforms can help create these applications faster, and help achieve scalability, maintainability, and security.
The built-in libraries and components in low-code and no-code applications make it easier to exchange data among various functions of internal and external 3rd party systems, thereby enabling the development of the internet of things (IoT), artificial intelligence (AI) and machine learning (ML) applications.
Conclusion
IGT has partnered with various no-code and low-code platforms, we offer end-to-end digital solutions and services to Travel and Transportation customers. IGT's no-code application digital assurance services employ an in-house developed digital assurance framework with pre-built use cases and are faster, and easier to deploy, manage, and optimize ensuring a higher ROI for our customers.
Author: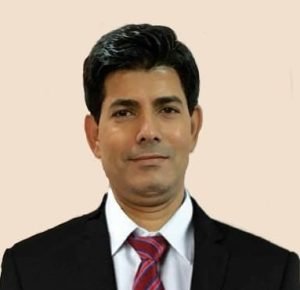 Yatender has 20+ years of experience in software test engineering. As the head of Testing Practice at IGT Solutions, Yatender is actively involved in innovations related to test engineering covering new tools, technologies, and solutions, and enabling IGT's clients to achieve faster time to market quality improvement, and optimization of developer efforts in overall SDLC. A result-oriented leader, proficient in delivering high customer value and achieving excellence in service delivery management with proven skills in consulting and managing large and complex test programs. When away from work, he enjoys reading on a variety of topics and spending time with kids.
Sources: Gartner