The undeniable goal of the hospitality industry is to keep their customers satisfied and provide a great experience. While most hospitality businesses can meet their client's demands, it comes at a cost (think of utilizing your resources to do back office jobs like record keeping, billing, contracting, etc.)
But the good news is, you have a solution!
The answer is hyper-automation. This technology enables enterprises to delight their customers with an interactive, immersive, and personalized experience.
What is hyper-automation?
Hyper-automation is the planned application of a wide range of tools, platforms, and technologies, including Artificial Intelligence (AI), Machine Learning (ML), Intelligent Document Processing (IDP), Robotic Process Automation (RPA), etc., to expedite operations and improve their effectiveness. It enhances business processes and integrates functional and process siloes.
Benefits of hyper-automation in the hospitality industry
Streamlined Reservation Procedure: Every customer wants a simple and quick booking procedure, especially in the travel industry. At the same time, customers also look for discounts on different portals and book the hotel that offers the best deal. Additionally, when there is a mass cancellation ( it happened during the pandemic years) making a refund to each customer was a huge task All these together have made hotel reservations a cumbersome process for hotel owners.
All manual repetitious operations, such as bookings and cancellations, can be automated with rule-based configuration and intelligence-based automation. Additionally, the technology enables instant refunds following cancellation.
Improved management of hotel tasks: When you go to a hotel and place your first order, the staff who takes your order is the first touch point where a brand impression is created. The first interaction can make or break the reputation of the hotel.
But a hotel owner can completely mitigate this risk by leveraging a hotel job management system.
For example, if a wrong staff member is given a task, they only need to immediately enter the information into their task management software on a handheld device. A prompt response will result from the automated rules and alerts notifying the affected party or department.
Contactless and simple check-in and check-out: The COVID-19 pandemic has created a demand for contact-free services. Customers can check into their rooms by simply arriving at the hotel using their smartphones thanks to automatic check-in software. This means the customer doesn't need to wait at the reception to get their room keys. Additionally, it enables the hotels to clear the headspace for their staff and lowers the operational cost.
Respond in a timely manner to consumer queries: Nine out of ten times, customers who call or send an email with a question must wait for sometime to hear back. Longer wait times can negatively impact a customer experience.
The use of chatbots and voice bots have evolved as a crucial channel of communication for the hospitality sector. If a customer's question can be answered right away, the system processes their emails and chat requests, analyses them, and responds appropriately. If not, the Chatbots/voice assistants forward the inquiries to a live agent, who is now free because there are fewer demands for answers.
Improvements in Customer Feedback Management: When consumers have a negative experience with a brand, they typically write online reviews about it. There are considerable chances that you might lose a sale if there are many negative reviews or if they are not addressed right away. This can be detrimental to your online reputation.
A hotel task management system comes with a built-in automated feedback management system. The customer support team is automatically notified whenever there is a negative review to take appropriate measures.
Are you ready to embrace hyper-automation technology?
Hyper-automation is the future of the hospitality business. It enables business owners to fully refocus their attention from mundane data-oriented duties to more crucial functions that enable them to provide superior customer service.
Author: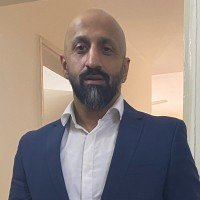 Vitesh Kohli is an Intelligent Automation thought & execution leader with a track record of setting up CoE, best practices, robot delivery, managing change and extensive program and project management experience with a strong entrepreneurial background. Have strong expertise in leading Transformation -Intelligent Automation across industries. Strong knowledge of planning big robotics set-ups, cognitive-based chat products, multi-components automation and multi-product Tech solutions. He is a domain Expert and Hands-on Technologist using Artificial Intelligence, Intelligent Automation and Conversational Commerce to solve business problems in large enterprises.
Source: Gartner