Interview with Vipul Doshi, CEO, InterGlobe Technologies
---
March 10, 2014
Interview with Vipul Doshi, CEO, InterGlobe Technologies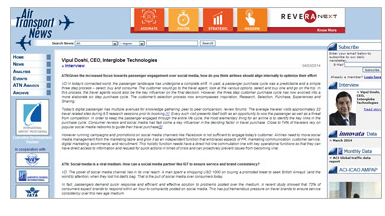 ATN: Given the increased focus towards passenger engagement over social media, how do you think airlines should align internally to optimize their effort
VD: In today's connected world, the passenger landscape has undergone a complete shift. In past, a passenger purchase cycle was a predictable and a simple three step process – select, buy and consume.
The customer would go to the travel agent, look at the various options, select and buy one and go on the trip. In this process, the travel agents would also be the key influencer on the final decision.
However, the three step customer purchase cycle has now evolved into a more elaborate six step purchase cycle. The customer's selection process now encompasses Inspiration, Research, Selection, Purchase, Experiences and Sharing.
Today's digital passenger has multiple avenues for knowledge gathering, peer to peer comparison, review forums. The average traveler visits approximately 22 travel related sites during 9.5 research sessions prior to booking.[1] Every such visit presents itself both as an opportunity to woo the passenger as well as a threat from competition. In order to keep the passenger engaged through the entire life cycle, the most elementary thing for an airline is to identify the key links in the purchase cycle. Consumer reviews and social media has fast come a key influencer in the deciding factor in travel purchase. Close to 74% of travelers rely on popular social media networks to guide their travel purchase[2]
However running campaigns and promotions on social media channels like Facebook is not sufficient to engage today's customer. Airlines need to move social media management from the marketing table and grow it as an independent function that embraces aspects of PR, marketing communication, customer service, digital marketing, ecommerce, and recruitment. This holistic function needs have a direct hot line commutation line with key operational functions so that they can have direct access to information and request for quick actions in times of crisis and can proactively prevent issues from becoming viral.
ATN: Social media is a viral medium. How can a social media partner like IGT to ensure service and brand consistency?
VD: The power of social media channel lies in its viral reach. A man spent a whopping USD 1000 on buying a promoted tweet to seek British Airways' (and the world's) attention, when they lost his dad's bag. That is the pull of social media over consumers today.
In fact, passengers demand quick response and efficient and effective solution to problems posted over the medium. A recent study showed that 72% of consumers expect brands to respond within an hour to complaints posted on social media. This has put tremendous pressure on travel brands to ensure service consistency over this new age medium.
To ensure consistency of brand, communication and service, companies should adopt holistic approach to social customer engagement. They can create a social media hub integrating various functions like marketing, customer service, PR, Ecommerce etc and consisting of SPOC's from the brand and social media. This helps in ensuring free flow of information and preventing walls with respect to ownership of social media within the various departments. To prevent inconsistence over response time, brand guidelines, response tone and quality etc the service standards need to be measured against pre-defined SLA's by the hub and all comments/ tweets need to be answered proactively. Travel companies need to track their social performance with respect to response time, brand guidelines, engagement guidelines, resolution action steps etc to bring in consistencies over social media channels.
ATN: What would be the benefit of working with a company like IGT viz-a-viz a social media agency?
VD: Most popular travel brands continue to bank on their internal teams and their digital cum social media agencies to plan, execute and manage their social media activities. Although these agencies are extremely adept in managing the digital commerce aspects like Facebook ads, promotions and social campaign execution, they may are not equipped to handle the meteorical rise of social media amongst travelers.
As provider of integrated services in the space, IGT complements the work done by agencies. While a good agency can design and develop strong campaigns, IGT can ensure the proliferation of these campaigns across all customer touch points including web, call centers, sales channels, mobile etc. IGT can also help airlines connect and service the passengers in the language and time of their choice. Currently IGT provides 24*7-customer service in social media space in over 16 international languages with a guaranteed L1 response within 30 minutes of receipt of a comment.
Also during crisis, the agency may be provide you with the best possible response, but may not be able to support the spike in volumes of queries and irate customers in times like these. IGT works with its airline customers in times of crisis by providing an on-demand social media support engine. The on-demand team can be made active within a short span and can effectively handle the customer queries in times of crisis thus managing the airlines' online reputation.
As airlines get more and more active on social media, the volume of the user generated content increases exponentially. One of our customers receives upto 800 messages from social media every day. Responding and analyzing these messages needs a robust and socially savvy CRM and analytics system. IGT works with airlines to upgrade their CRM to understand the new age digital passenger. Also by combining the prowess of big data, analytic tools and understanding of the airline business, IGT can provide with business ready role based roles.
ATN: How do you manage cultural sensitivities for such widely visible and viral medium
VD: Social media connects people around the globe and provides brand a collaborative platform to interact with them. However, consider the fact that there are 193 countries (as recognized by United Nations), each with multiple cultural variations, with more than 1300 languages (with at least 100,000 speakers). These huge numbers indicate mammoth levels of cultural variations around the world. In addition, all these variations are manifested on social media as well since it is a medium with no barriers. Thus, companies need to manage the cultural and language sensitivities, especially over social media due to its viral nature.
Providing multi-lingual customer service over multiple social media channels including popular channels like Facebook, Twitter, LinkedIn and country specific channels like Weibo, Vkontakte is the first step for any travel company to manage these sensitivities. Airlines are providing social media customer services in upto 16 languages these days to delight travelers from varied cultures.
A row of seats in a Chinese airport has been reserved for the 'old, weak and pregnant' as translated in English. This word-to-word translation could be offending to a European traveler. These translation mismatches need to be prevented on social media also to prevent travelers from getting offended. A simple word like 'hot seats' could mean widely popular seats to one set of travelers while it could mean seats at high temperature to a foreign traveler unfamiliar with the language usage. Thus, another focus item for travel companies could be to train their social media experts on rules of engagement, tone of voice, use of words etc.
Thus, holistic, expert and compassionate management of social media channels is essential to manage cultural sensitivities.
ATN: What is the next wave in social media for airlines? How is IGT gearing up for it?
VD: Airlines in every market are working to create right time experiences for their travelers by integrating social media, mobile, big data analytics and ecommerce. All these technologies are coming together to provide a traveler with what he or she needs at the time of need.
Thus if a prospective traveler has commented on Facebook that he is likely to travel to a certain destination, then identifying this as an opportunity, airlines provide special social media targeted discount on tickets and allows the traveler to book his tickets via a Facebook plugin itself. Here a transaction is closed in real time and quickly, thus, providing right time experience to travelers.
Airline loyalty program are also being linked to social media channels. Airline's social advocates would be provided special loyalty status, whether they have traveled the airline or not. Further, social media would be used to identify new and popular avenues of redemption of airline loyalty points.
IGT can help airlines in integrating the social media channels in the airline landscape in a holistic manner. To gear up for the next wave of social media, merely a social media monitoring tool and social media analytics tool would not be sufficient. The airlines customer service landscape and airline technological landscape needs to be altered to make all applications and processes social media enabled. In addition, the data avalanche over social media needs to be harnessed into insights and actionable using data mining and big data analytics. These insights would be essential in providing highly personalized customer service to travelers. Thus, to delight customers, airlines need to combine the power of social, mobile and analytics into a comprehensive platform.