InterGlobe Technologies recognized as a 2012 Global Services 100 provider
---
August 30, 2012 , Travel Daily News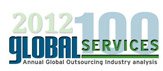 InterGlobe Technologies recognized as a 2012 Global Services 100 provider
Featured in four categories: Global BPO niche leaders, emerging mid-tier global ADM leaders, leaders – specialty KPO and industry-specific BPO niche leaders
InterGlobe Technologies, one of the leading providers of integrated IT- BPO solutions to the travel and hospitality industry has been recognized as a 2012 Global Services 100 provider. The 2012 GS100 list, compiled by Global Services, honors companies that demonstrate excellence in delivering Business Process Outsourcing (BPO) and Information Technology Outsourcing (ITO) services globally using matured models of service delivery.
The GS100 list includes the biggest and best companies from around the world that provide the full spectrum of outsourcing services. IGT was recognized on the GS100 list based on four key criteria: performance and leadership, quality and maturity of customers, breadth of services offered and spread of global delivery capabilities. IGT has been featured in four categories: Global BPO niche leaders, emerging mid-tier global ADM leaders, leaders – specialty KPO and industry-specific BPO niche leaders. Global Services conducts the GS100 survey online under the guidance of Neogroup, a globalization advisory firm.
"We are extremely honored to be recognized as one of the global IT-BPO niche leaders in the travel industry. InterGlobe Technologies has successfully upheld the high standards of service excellence expected by our clients in the ever changing travel landscape. This award recognizes not only our commitment and abilities as a services provider but also to our employees and clients who have been the foundation of IGT's success," said Vipul Doshi, CEO, InterGlobe Technologies.
"The global service provider landscape is increasingly getting complex; but buyers are looking at vendors with scale, skill, or both in delivering business outcomes and not cost-savings alone. The companies on the Global Services100 list have demonstrated their ability to deliver complex solutions and services, manage global customers, and sustain successful financial performance," says Ed Nair, Editor, Global Services.