Understanding the uberized working model
If one has to explain uberized customer service in a single line, it will be 'fulfilling customer service request on demand through a flexible and virtual workforce in the shortest possible time frames.'
The biggest enabler of this model is the expanding gig workforce across the world led by diverse agent profiles – more industry experienced agents, work at home mothers etc. According to a survey of 6,500 executives worldwide conducted by BCG in partnership with HBS in 2018, ~40% of respondents said they expected freelance workers to account for an increased share of their organization's workforce over the coming five years.
But why are we observing the industry transition towards this new delivery model?
 Defining the value proposition
 In the recent times the customer service industry has reached an inflection point with highly seasonal demand coming in from new industry verticals like E-commerce, FGT etc. At the same time the process still needs to be highly customer centric and cost efficient.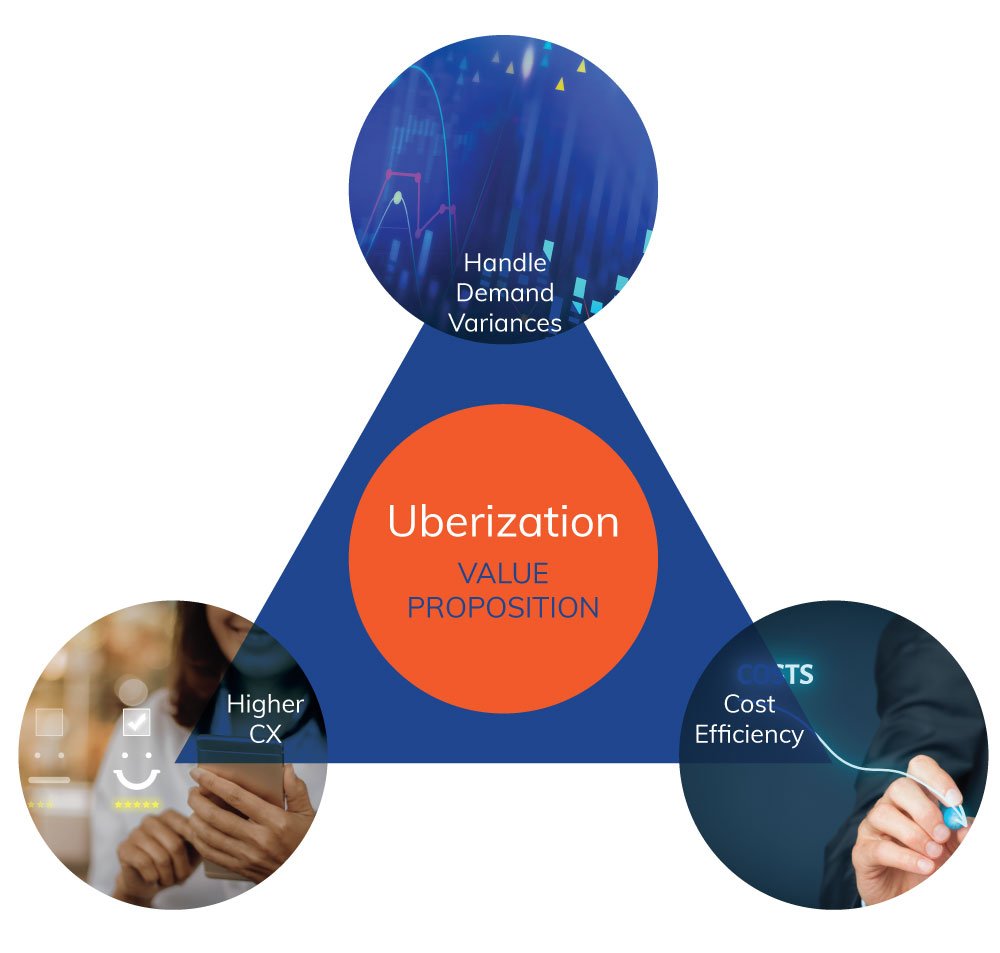 This is driving the industry towards uberization as it can help improve effectiveness across all 3 elements:
Higher CX: Helps deliver improved customer satisfaction driven by diverse agent profiles with fragmented pools of specific skillsets e.g. multi lingual agents, finance or technology certified professionals etc.
Handle demand variances: Provides flexibility of handling intraday and seasonal demands as agents can be sourced in real time across different slots based on demand
Cost efficiency: Can help achieve ~20% lower cost for demand peaks and troughs driven by lower cost for overtime, niche skillset at lower cost and lower churn.
But why are we seeing an accelerated focus on uberization in recent times?
COVID as an accelerator
Corporate' concerns about productivity of employees working in a virtual setup and data security have been key deterrents for success of uberized customer service in the past.
But the current pandemic created an unprecedented situation wherein companies across the world were forced to operate in a virtual setup. This gave corporates the much-required push towards embracing virtual workforce, as they were able to ensure both productivity and security by setting proper remote working models.
In a way, COVID-19 cemented acceptance of virtual workforce in the corporate world. According to BCG's recent Workplace of the Future employer survey companies expect about 40% of their employees to follow a remote-working model in the future.
Considering the acceptance of companies towards virtual setup and effectiveness of uberization for superior CX, what can players do to ensure long term success for uberization?
 Setting the path to success for uberization
As industry initiates the transition towards an uberized model for delivering superior customer experience, 3 factors need to be set right to ensure long term success:
Effective training programs: Design highly scalable but effective virtual training programs to ensure availability of an enabled talent pool with capability to deliver high quality CX
Robust security & compliance: Develop robust protocols and tools to improve data security e.g. Biometric IDs, WAH video analytics etc.
Superior workflow management: Implement a best-in-class workflow management solution which can help in catering to real time demand by matching the requests with the most appropriate agents
We at IGT are ready to help our clients take advantage of this trend through our innovative WFH solution powered by our IVA technology.
Our solution not only helps increase the success rate of work at home by enhancing employee productivity but also empowers our teams to adhere to data security, compliances & policies. This can be particularly helpful for players in E-commerce or FGT area with high volume variability – as we can help deliver superior customer experience in a cost-efficient manner by leveraging a virtual workforce.