This is the age of rising customer expectations. A recent study indicates, 80% of the consumers who ask a brand a question on social media expect an answer on the same day. This increasing demand in service levels require contact centers to take necessary action to achieve customer delight or get squeezed out by the competition.
Automation is one such powerful tool that can help contact centers to shift the control of manual back-office look ups and simple front-line interactions away from customer service agents. This unlock of agents' bandwidth offers contact centers an opportunity to reduce waiting time for customers, add new services to their portfolio, improve value for money for clients as well as end customers.
Automation in contact center is seen across functions with varying degree of complexity ranging from simple tasks such as customer triage to human-like interaction using virtual agents. Let's have a look at some of the key use cases being implemented across industries: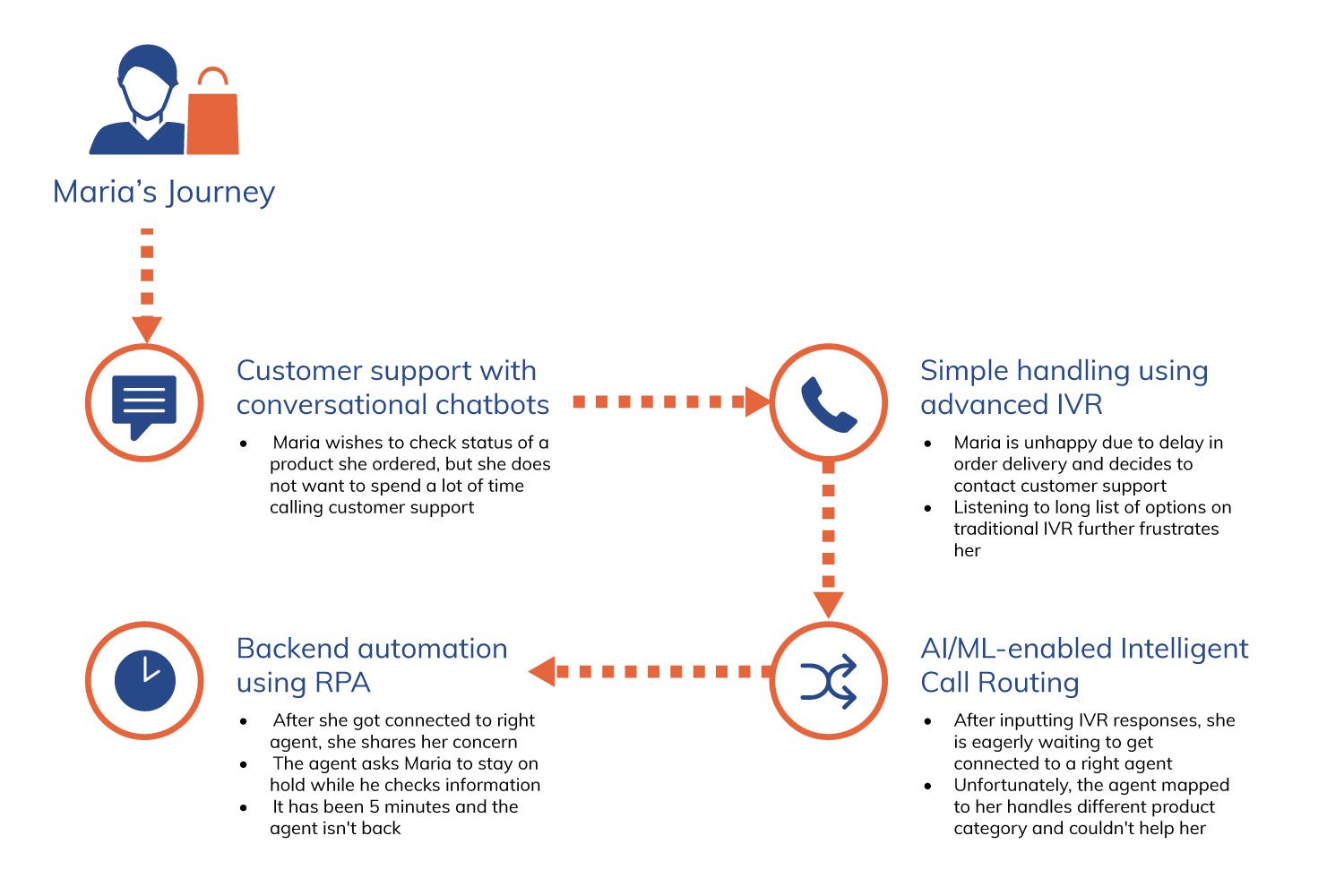 Intelligent chatbots to support agents
Intelligent chatbots are trained to engage in human-like conversations by programming with conversational abilities and a self-learning network. They can be deployed to answer simple questions & FAQ's instantly and seamlessly escalate the complex concerns to live agents.
Simple handling using advanced IVR
Interactive Voice Response (IVR) systems have been around for long proving its advantages of 24/7 availability, call routing, and large call volume handling. While traditional implementation was focused on customer service through vocal scripts, newer technologies are extending capabilities to Smart voice assistants, Visual IVR, Biometric authentication and Smart IVR.
AI/ML-enabled Intelligent Call Routing
Unlike traditional rule-based routing, Intelligent Call Routing provides unmatched speed, accuracy and responsiveness by leveraging AI/ML-enabled algorithms. These algorithms combine various customer and agent-level inputs such as caller input, customer historical data, sentiment data, agent profile to map the customer with ideal agent. ICR, further, shares customer nuances with live agents to ensure personalized service.
Backend automation using RPA
Handling a customer call requires service agents to fetch information from disparate computer applications, hampering the speed & accuracy. RPA solves this problem for contact centers by integrating data across different systems and automating workflow, shifting agent's focus to value-adding interactions with customers.
As per a global study on digital transformation by BCG, ~70% organizations fail to implement digital solution due to lack in preparedness & execution. This points toward the need to develop an integrated approach for implementation of automation. A well laid out roadmap of overall strategy, partnering with right solution vendors, and agile implementation & monitoring systems becomes paramount to achieve desired business results. We utilize an iterative approach to help clients in ensuring successful automation implementation:
Analyze: Identify and prioritize right processes for automation through detailed assessment and value impact analysis.
Automate: A careful evaluation of automation solutions across technical requirement, financial business case, and positioning system should be carried out, followed by a selection of implementation partner.
Optimize: Before going live with the entire solution, choose 1-2 use cases as proof of concept. Extensive testing under different scenarios should be conducted & system should be optimized to ensure that the it stays in operation even if processes change.
Monitor: Contact centers should closely monitor the success rate of automation implementation against defined operational KPIs.
Measure: Considering the massive benefits of automation on financial ROI and day-to-day business activities, it is imperative for contact centers to ensure that automation delivers maximum value impact.
Control: A mechanism should be put in place to immediately track any deviation from the set processes.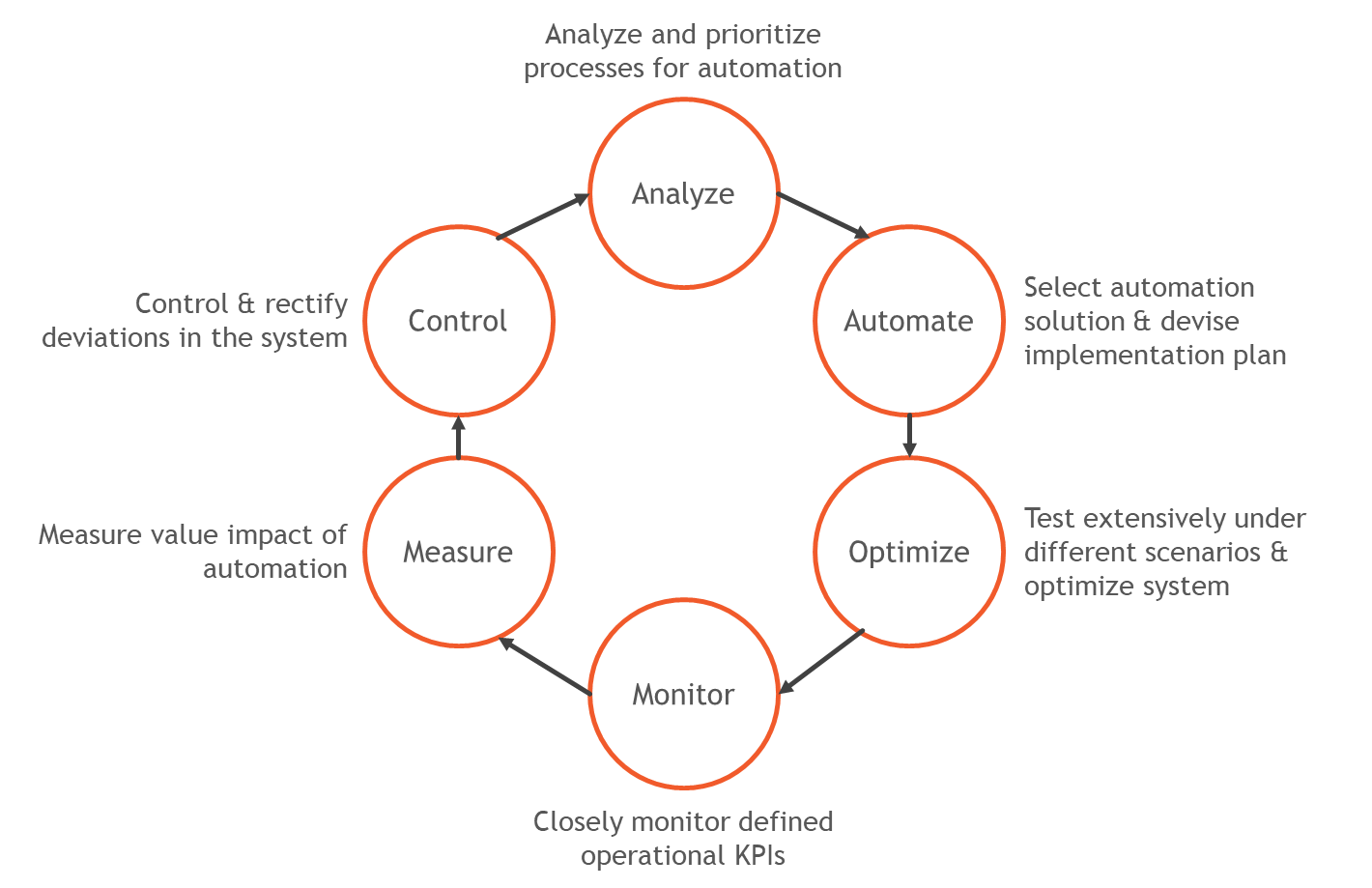 We envision this cycle as a continuous loop to recognize new automation opportunities and improve existing solutions.  While we strongly believe that automation is a necessity in today's world to match customer's expectations in terms of speed and operational efficiency. But it should be noted that automation is a pillar of support to enhance agent efficiency and hence it is of utmost importance that we do not see automation as a replacement of human empathy but rather a bionic tool to complement & enhance agent's capabilities.