Worldspan engages InterGlobe Technologies (IGT) in a 5-year outsourcing agreement
---
February 13, 2006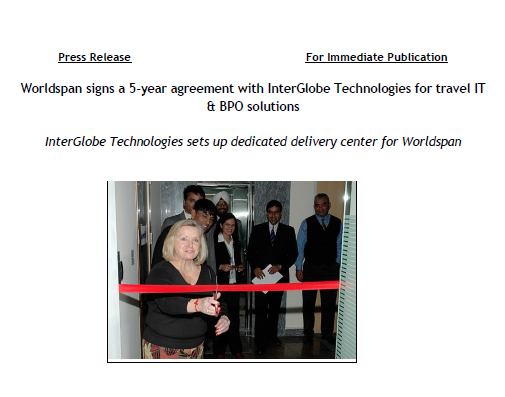 Sue Powers, CIO Worldspan, inaugurates the InterGlobe Technologies –
Worldspan center of excellence (at IGT's Global Delivery Center in Gurgaon, India)
New Delhi, February 13, 2006: InterGlobe Technologies (IGT), India's leading travel technology solutions provider has signed an agreement with Worldspan, Atlanta-based global travel distributor to provide integrated IT & BPO solutions for them.
A dedicated delivery center has been created by IGT to deliver customised solutions and BPO services for Worldspan. The delivery center has state-of-the-art facilities and highly qualified IT & BPO professionals, in keeping with IGT's promise of global standards in quality and cost effectiveness
Mr. Vipul Doshi, CEO, InterGlobe Technologies said, "We at IGT are extremely happy on being chosen by Worldspan for delivering quality products and services to them while offering unmatched cost competitiveness. This 5-year agreement with Worldspan marks another milestone for us as a rapidly growing company, thus making its mark as a travel solutions specialist in the international arena. "
Speaking on the relationship, Ms. Sue Powers, CIO Worldspan said, "Worldspan has chosen InterGlobe Technologies as a partner because of their deep experience in travel coupled with their ability to provide both Technology & BPO solutions as a 'complete solutions provider' dedicated to the Travel industry. In addition, IGT has a corporate culture that matches with that of WorldSpan's US culture. We look forward to this partnership for many-many years to come."
IGT will provide a series of IT services for Worldspan including application development, maintenance and support in the TPF technology which is a high-end specialised process in fares loading for airlines. IGT will also work on maintenance, enhancement and quality engineering for Worldspan's web based applications.
In the area of BPO services, the Worldspan process at IGT is named 'Quality Order Management' process. The process, intended to provide relevant information to all Worldspan support departments, involves uploading and maintenance of database & information pertaining to WorldSpan's interaction with its customers. This process caters to the worldwide markets of WorldSpan customer base of travel agents, websites, airlines, hotels, cruises and other suppliers.
About InterGlobe Technologies (IGT Solutions Pvt. Ltd.)
IGT is an end-to-end Travel Technology and Process Outsourcing solutions provider having its product and service offerings tailored to the needs of the Global Travel Industry- Airlines, Cruises, Hotels, Travel Distribution providers, Travel Management Companies and Online travel services providers.
How is IGT different?
The only travel technology solutions provider offering a 'complete basket' of IT and BPO Solutions to the travel industry, IGT is uniquely positioned as a 'one stop shop' for its clients backed by four decades of travel domain expertise. (The company has a matchless background of 4 decades of travel domain experience that comes from its parent- InterGlobe Enterprises.)
Headquartered in India, IGT has a skilled resource base of 900 professionals with presence in the Americas, Europe, Australasia, Middle East and Africa. The company operates out of its vast network of offices spread across Canada, USA, UK, Denmark, Holland, Australia, South Africa, Kenya, Middle East and India.
Blending travel domain expertise with IT and BPO practices, IGT has already made a lasting impact on the business of lead travel industry players including United Airlines, Virgin, Saudi Arabian Airlines, Galileo, Thomas Cook and many more prestigious clients.
IGT Client List:
IGT client lists spans over leading Airlines, Cruises, GDSs, Travel Management corporates, and online travel portals across the globe. Includes- Virgin Atlantic, South African Airways, United Airlines, Saudi Arabian Airlines, Air Deccan, Air India Express, Indian Airlines, Princess Cruises, Brightsun Travels, EF Tours, Online Travel Corporation, BTI Australia, Al Tayyar Group, Cendant and many more…
About InterGlobe Enterprises
Established in 1989, InterGlobe Enterprises is the foremost travel conglomerate in India and enjoys a significant presence in the fields of airline & aviation management, travel related services, travel technology, travel distribution services and hotel development & management services.
InterGlobe has been a committed player in the travel and aviation industry for the last 16 years. Its aviation management experience includes representation of 14 leading international airlines and offers services ranging from sales and marketing to revenue and route management. It also offers cutting edge distribution, technology and BPO services for the travel and aviation industries.
InterGlobe has recently entered consumer segments with the promise to offer products and services that deliver value for money. It has announced the launch of IndiGo, its low-cost nation-wide airline venture which will fill the fast emerging need for reliable, efficient and economical air travel. It has also established a joint venture with Accor to build the Ibis range of economy hotels in the Indian sub continent, which in the initial phase of development is set to populate the region with 25 hotels over the next few years.
Headquartered in Gurgaon, India, InterGlobe employs more than 1900 people and has a network of 52 offices across 23 cities in India & abroad.