InterGlobe Technologies Inaugurates Delivery Center in Dubai Outsource Zone to Serve Middle East Clients
---
June 11, 2012
InterGlobe Technologies Inaugurates Delivery Center in Dubai Outsource Zone to Serve Middle East Clients
IGT expands its global services footprint across 10 delivery centers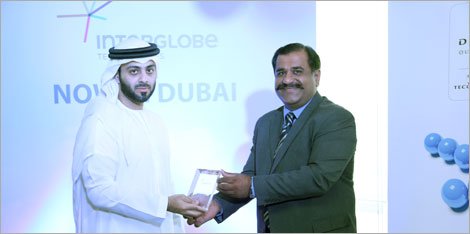 Dubai, 10TH July, 2012: InterGlobe Technologies (IGT), the leading provider of integrated IT- BPO solutions to the travel and hospitality industry, today announced the opening of its Dubai global delivery center. The new center is a licensed partner of the Dubai Outsource Zone (DOZ), a leading business park catering to the market demand for outsourcing companies. IGT's delivery center is located in the heart of Dubai at the DOZ free zone, which offers state of the art offices, robust telecom infrastructure, facilities management services and a 24-hour security service. This will be IGT's tenth delivery centre globally opening up with 100 employees ramping up exponentially in the next 12 – 18 months.
The company's decision to set up operations in the UAE is based on the excellent infrastructure, big talent pool, supportive government policies, connectivity with the rest of the world, and the ease of doing business that Dubai offers. The Dubai delivery center will provide business process services such as customer service, operations, airline reservation, flight disruption support services, back office processing, multi-language support and others in the Airline and Travel Management industry for clients in the Middle – East.
Speaking at the inauguration, Malek Al Malek, Managing Director, Dubai Internet City and Dubai Outsource Zone, said: "The UAE has become a central location for companies from across the globe and a gateway to the Middle East and Africa markets. Dubai, in particular, consistently demonstrates business potential with most international majors setting up their offices and running business operations to reach out to their target audience.
"Furthermore, Dubai Outsource Zone is home to global players that have set up their outsourcing operations at the free zone destination. The companies have reaped long-term benefits from utilizing skill sets and expertise available, which they normally would not be able to access without a large investment. Interglobe Technologies, which is venturing into the region with ambitious business plans and investments, has rightly identified the region's potential. Its delivery center at DOZ will help the company cater to a wider customer base across the MENA region."
Vipul Doshi, Chief Executive Officer' InterGlobe Technologies said, "We are delighted to set up operations in Dubai and hope to grow this center to an employee strength of 400 in the next two years. Setting up operations closer to clients has always been a part of our growth strategy. IGT's operations at the free zone will allow us to service the wider markets more efficiently and gain easy access to a vast talent pool."
He further added, "Our decision to set up base as a DOZ licensed partner adds significant value to the UAE's business and professional landscape and gives corporations like us access to internationally benchmarked business processes. The Dubai center will increase our capabilities to deliver services in Arabic and other local Middle Eastern languages."
Dubai Outsource Zone caters to organizations specializing in services such as business process outsourcing, knowledge process outsourcing and legal process outsourcing. Additionally, it offers an environment that attracts different elements of the value chain, including banking and finance, insurance, IT, legal and airlines.
IGT's Integrated IT-BPO solutions operate across the entire value chain of travel, right from calculation of complex fares to migration and management of mainframe solutions, from managing dynamic multi–contact channels to building ecommerce and mobile commerce platforms. These solutions help travel companies reduce total cost of outsourcing while benefiting from unified governance, enhanced knowledge management, standardized operation, thus achieving faster time to market and staying ahead in this competitive and dynamic travel landscape.
About InterGlobe Technologies
InterGlobe Technologies (IGT) is a global travel domain expert, providing travel technology and BPO services, that helps maximize business performance of its customers. IGT is committed to delivering innovation and business excellence across the entire spectrum of the travel' and hospitality domains. The company offers integrated Application Development and Maintenance' Contact Center, Back Office Services and Solution Frameworks to the travel industry worldwide.
IGT is part of InterGlobe Enterprises Limited with interests in aviation, technology & hospitality. With its footprint, spanning across the globe from 10 state-of-the-art delivery centers' IGT employs over 5000 travel experts worldwide.
For any other information, please contact:
Ambika Puri
InterGlobe Technologies
+91 9811331624
ambika.puri@igtsolutions.azurewebsites.net