Have you ever bought a gadget but hardly used it? Not because it was outdated; but because there was hardly any need to buy it. Let's face it; today's gadgets can be upgraded/updated and sustained with a decent amount of time. But because we feel the need to possess the latest technology to perhaps compete with our peers or friends, and later realize that we could do without it.
Being a gadget geek myself, I've made multiple purchases that are lying around the house without being used. This New Year, I made a resolution not to buy one, and a few days later, I was already itching to make the next tech purchase. So my wife suggested that I list down the reason for my next purchase and how it will benefit me, which inspired me to write this blog- making the right decision when it comes to Data Modernization and Cloud Services for the long term benefit of an organization.
Why do companies choose to modernize? Just because a service like Cloud is available and provides 24X7 infrastructure, does it imply that all companies need to implement it? Let's understand both these services to understand better whether your business needs it and to what extent. Data modernization and Cloud Computing have emerged as critical factors in the Digital Transformation Journey. Data Modernization refers to "state of the art" data management tools that enable organizations to manage and process a large amount of structured and unstructured data from heterogeneous sources. Conventional data management tools are not equipped to harness large volumes of social media and IoT (Internet of Things) datasets. With modern data management tools, organizations would be able to capture and harness such information to understand actionable intelligence. Whereas, Cloud Computing enables access to IT resources such as Storage and Computing Cycles etc. that are much needed for implementing data-driven applications at scale.
The key to successful data modernization implementation is dependent on your business objectives. Following are some common business objectives that are part of most of our conversations with customers & prospects: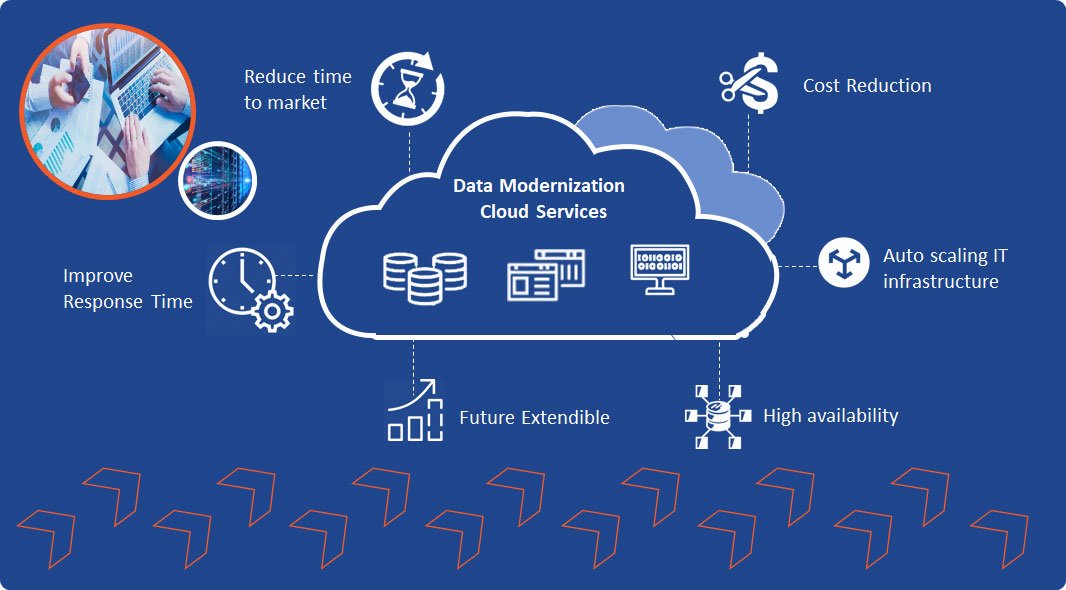 Cost Reduction: Rationalizing Operational spend on the applications
Improve response time for the end-users of the application
Reduce time to market for changes & onboarding new data sources
Auto-scaling: Ability to scale up & down the IT infrastructure automatically based on market demand while ensuring service levels remain intact
Ensuring high availability
Future Extendible: Ability to have an evolving system which extends to future data types & sources without the need for high maintenance
Now that we have identified the usual suspects, the next step is to identify which methodology is the right fit for the data modernization undertaking.
Re-architecting the solution:
Performance in terms of utilization of resources like memory, compute, storage.
Enablement of the current solution to take advantage of the autoscaling factor
Relook at the solution from the lens of DevOps, micro-services & containerization to make use of current technology in the solution. This helps to make it future-ready
Define naming standards, best practices and standard operating procedures
Define & decide data latency needs, security needs (including GDPR & other privacy laws), data governance including data retention, archival & operational management.
Define & decide encryption levels, agility & reliability needs, VPC pairing
Define & decide process around metadata management, data quality, cost monitoring
IGT plays a critical role in the data modernization and digital transformation for its customers. Whether it is defining a business/technical strategy roadmap, a high-level approach, or actual implementation of services and value management through support services, IGT has the needed expertise and experience to ensure successful digital transformation through data modernization on the cloud!
Our Approach: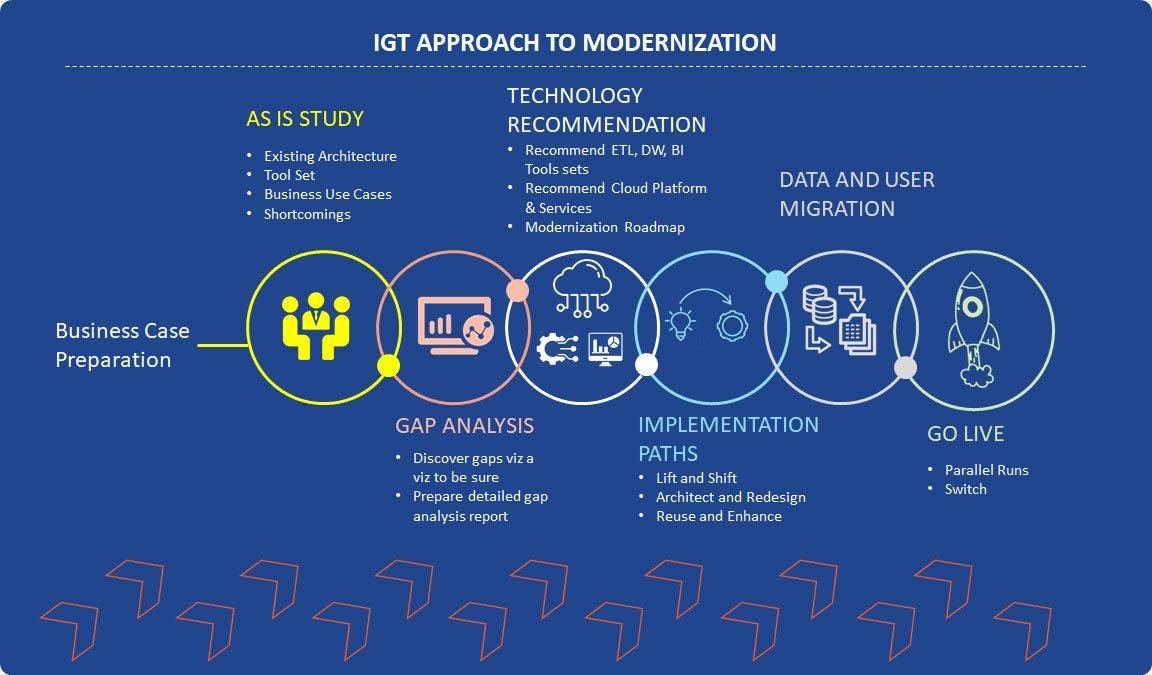 To summarize, data modernization is an absolute must for a successful digital transformation of the organization and Cloud is both the means as well as a consequence of data modernization. They both go hand in hand. Data modernization gives rise to increased cloud spending and vice versa. IGT has helped many organizations in their Digital Transformation Journey.
Learn more about our services or reach out to mktg@igtsolutions.azurewebsites.net to understand how we can partner with you!
Authors:

Bhushan Gangurde is passionate about solving business problems  using AI/ML, Analytics, Data & Automation and Digital technologies in that order. With more than 17 years of experience in field, he loves exploring new technologies and reading books. He heads IGT's Center of Excellence for AI/ML & Automation.
Kiran Dongre is Analytics Presales head at IGT Solutions. He has more than 20 years of Analytics experience and have serviced many customers in their Digital Transformation journey through data modernization. Kiran is passionate to travel around the globe as well as loves playing Badminton. He can be reached at kiran.dongre@igtsolutions.azurewebsites.net