Data is the new oil. It's a prized resource that can be mined, processed, and refined to extract value through improved decision-making, optimized business processes, personalized products, services, and so much more. In the next five years, the global data volumes will grow to more than 180 zettabytes. Enterprises are increasingly becoming aware of this data deluge opportunity and have successfully developed monetizing strategies.
One great example of this is Google. The technology behemoth monetizes its data through its Google Cloud Platform (GCP) division and its advertising business. Both offerings use data on users' search and browsing habits for specialized precision targeting. Enterprises can also take a cue in this regard from Facebook. The advertising business of this leading social media platform leverages data on users' interests, demographics, and social connections for personalizing marketing campaigns.
Uber, a popular mobility-as-a-service provider, has also monetized its data through its Uber for Business division, which provides businesses with insights into employee travel patterns and costs. Another great use of data monetization exists in the business model of the global streaming subscription platform Netflix. It monetizes its data through its personalized recommendations system, which uses data on users' viewing habits to suggest new shows and movies. LinkedIn, the world's largest professional network on the internet, also monetizes its data through its recruiter product. It uses data on users' professional networks and skills to match job seekers with relevant job openings.
These are just a few examples of how companies monetize their data to generate revenue and gain a competitive advantage. Such use cases of data monetization are only growing. With the rise of data monetization, forward-looking enterprises ensure sustainable growth and revenue.
Unlocking the value of data
Data monetization refers to generating revenue from personal, business, or public data by selling or licensing it to third parties. The data can come from various sources and monetize in several ways – selling datasets, offering data analytics services, and licensing data for research or business operations.
Anyone can potentially do this if they have legal access to data that has value for others. They can find buyers willing to pay for that data directly or through an intermediary such as a data broker. They only need to meet compliance requirements related to data collection, use, and sharing. This may include data privacy laws, data protection laws, and industry-specific regulations.
Therefore, it is not surprising that the data monetization market is booming and is projected to reach $15.4 billion by 2030. The trend is picking pace across industries and geographies, but aviation is among the key contributors to this growth. Airlines often pay for data around flight schedules, ticket sales, and passenger demographics, as it can help them optimize their operations and better understand their customers. Air travel data can also be valuable for travel agencies as it would offer them the insights they need to fathom the travel market and plan vacations for their customers.
Likewise, hotel chains may be interested in this data to identify the travel patterns of their guests and enhance their marketing efforts. The data is sold to advertising and marketing companies to help them create targeted advertising campaigns for products and services related to air travel.
Automotive companies can also use data monetization to their advantage. As the data gathered through the vehicles they manufacture and sell is offered to insurance companies, city planners, and advertisers. Similarly, Internet of Things (IoT) service providers can sell the data they collect from IoT devices to other companies for various purposes, such as predictive maintenance, energy management, and logistics. Some companies can even sell their data to other organizations as a service. For example, agricultural firms can use weather data and satellites, satellite imagery for construction companies, and more. The use cases are endless and promising, and a single step forward can open infinite possibilities for enterprises.
Getting started with your Data Monetization journey
Many factors can affect the data's monetization potential, including the data's quality, security, and relevance, the size and composition of the audience consuming the data, and the competitive landscape for data in the relevant market. Additionally, the legal and regulatory environment in which the data is monetized can significantly impact its potential value. Organizations should also consider the ethical implications of monetizing data, including whether it is appropriate to sell data that may be sensitive or personal.
However, all of this is easier said than done. In maximizing the monetization potential of data, it is essential to clearly understand the value of the data and its possible uses. Also, carefully consider the most appropriate monetization strategy and target audience. Here are a few steps to follow to get this right: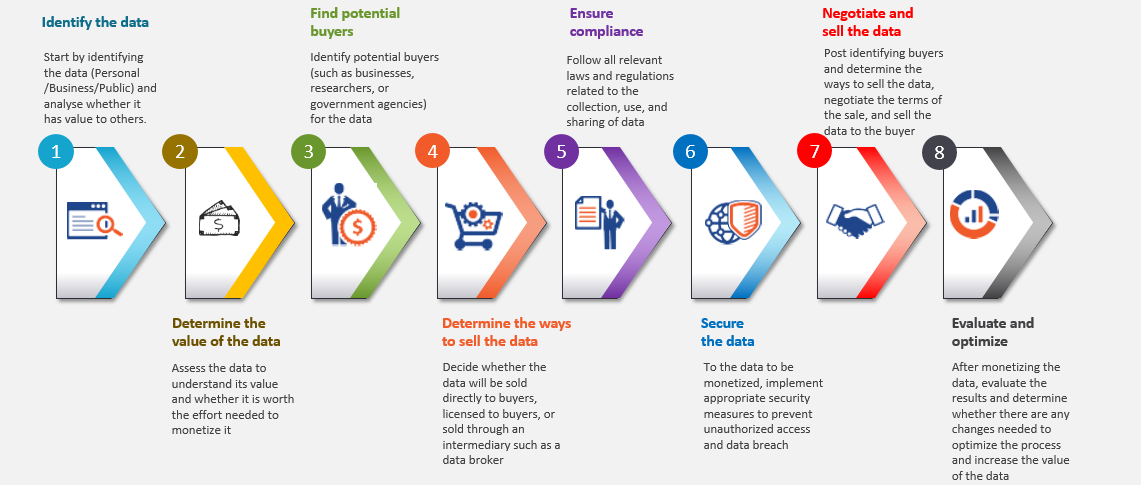 How IGT Solutions can help
Data monetization is complex, and there are associated risks. But having a trusted partner with skilled data strategists and integrated technology offerings can bring much clarity and certainty to this journey. And that's where IGT Solutions can help.
We provide a clear data marketplace roadmap by leveraging our strong expertise and experience in data monetization. The roadmap includes all the vital steps for identifying valuable data assets, developing, and executing a customized data monetization strategy. With our readymade data acquisition methods, you can quickly and efficiently gather the data to monetize. Additionally, our data modernization services ensure that collected data is accurate, relevant, and up to date.
To further support your data monetization process, we also offer data engineering accelerators, which can streamline and automate critical vital critical tasks such as data processing and analysis. Our pre-built delivery channel frameworks, including web, mobile, voice (conversational AI), and chat, are offered as part of the engagement to deliver the best possible outcomes of data monetization to our customers. Since strategic marketing and co-owned IPs ensure that the data is protected and enterprises can legally monetize it, we implement robust data governance and management practices. It safeguards data's value and builds trust with customers and partners.
With these capabilities and so much more, IGT Solutions can provide the foundation you need to improve your efforts to monetize data. Take advantage of this opportunity to expand your business horizons and optimize the potential of data. Contact us today to learn more about how we can help you succeed in your data monetization endeavors.
Author: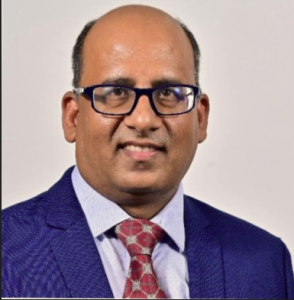 Dheeraj Wal is a highly accomplished IT leader with over twenty years of experience in analytic services, digital transformation, and entrepreneurship. He has successfully led disruptive transformation programs that delivered significant business outcomes. Currently, serving as the Senior Vice President and Head of Analytics at IGT Solutions, Dheeraj is responsible for formulating business strategy, global delivery, P&L, and developing competencies to help clients achieve success in digital transformation, automation, AI, and analytics. As a transformative thought leader, he strongly believes that digital transformation, analytics, and automation are the key drivers that will not only impact the future of industries but also shape how we live and work within the entire socio-economic system.